Our Innovation
Innovation at a glance
Pfaudler has been and always will be driven by an innovative spirit. It all began with Casper Pfaudler who, in 1884, created what was then considered impossible: a process to bond glass to steel so as to combine the benefits of smooth, clean, inert, corrosion-resistant glass with the strength of steel.
Since then, the GMM Pfaudler Group has developed many corrosion-resistant innovations with our glass-lined steel, fluoropolymers and reactive metal technologies. Our wide-ranging reaction, filtration, drying and evaporation innovations improve process yield, quality and efficiency for our clients.
Continual innovation
It has been over a century since then, and the GMM Pfaudler Group has continued this process time and time again.
It's our principle: identify the seemingly unsolvable problems and create new technologies to provide solutions. It's looking at assessing chemical processes and finding a better way in order to improve efficiency, lower cost, reduce footprints, improve quality and protect the environment.
Customers come to us with difficult, complex problems and we find solutions. This is how Pfaudler has continuously defined the standard in the industry and always will.
Here below main milestones in the GMM Pfaudler Group's innovation.
Glass Lining : excellence in chemical glasses
First chemical glass invented by Casper Pfaudler in Rochester, NY, USA.
A milestone in the development of chemical glasses: combined properties of the chemical resistance of ceramics and the strength of the metallic base.
Invention of a glass for polymerization processes: extremely smooth surface properties.
Today Pfaudler's standard glass: enhanced physical characteristics through knowledge in development of high technology ceramics.
Pfaudler Pharma Glass® PPG
European Patent # EP 1231189: Invention of a glass with customized characteristics for the needs of the pharmaceutical industry.
Conductive and extremely durable. Conductive glass with the surface properties of WWG – World-Wide Glass.
Abrasion Resistance Glass® ARG
Invention of a glass for simultaneously highly abrasive and corrosive processes: double resistance to abrasion with the same resistance to corrosion as WWG.
Glass-Lined mixing systems for customized process solutions
Pfaudler manufactures the first agitated Glasteel® reactor.
Cryo-Lock® Agitator Technology
Invention of a cryogenic connection for a glass-lined, multi-piece agitator. No need for a dedicated opening for the agitation: assembly and maintenance of the agitator are fully made via the manhole.
Customized flyers created for specific process requirements. Initially, with typical turbines like CBT (curved blade impeller), TBF (turbofoil), PBT (pitched blade turbine), FBT (flat blade turbine), ANC (anchor).
Curved Blade Residual Cryo-Lock Turbine - CBR
Turbine for dramatically small residual quantities.
Agitating properties like CBT.
MaXFlo Cryo-Lock Turbine - MXT
High-performance turbine for substances with higher viscosities.
Gas Dispersion Cryo-Lock Turbine - GST
High-performance gas dispersion turbine – about three (3) times higher vs. standard impeller.
MultiStep Countercurrent Cryo-Lock Turbine MSG
High-performance turbine with opposing axial, shearing flow up to very high viscosity ranges.
Turbofoil X-Shape Cryo-Lock Turbine - TBX
4-blades turbine with Turbofoil characteristics in one piece. Suitable for smaller reactors or high number of agitation levels.
7-Stage MFI (Multi Flyer Impeller)
First in the world to achieve a 7-stage Cryo-Lock TBF (Turbofoil) agitator for a European customer for a mid-sized >10.000 Liters) glass-lined reactor.
Foam Destruction Cryo-Lock Turbine - FDT
Installation in the gas phase on Cryo-Lock shaft. Destroys the build-up of foam.
Glass-Lined Baffling Systems
"Finger" baffle / "D" baffle / "H" baffle / "Beaver Tail" on stuffing box or flange mounted.
Invention of a multi-function Beaver Tail baffle allowing up to 6 functions on 1 reactor nozzle: baffling/ dip pipe/ temperature measurement/ sampling/ pH measurement/ corrosion monitoring.
Development of a new baffle shape for baffling effect approaching the "fully baffled" efficiency, providing an additional process nozzle retrofittable – for new reactors or retrofitting existing baffles.
C-baffle benefits transferred to AE type reactors - Retrofittable.
Glass-Lined Instrumentation Technology
Fused-in Sensor Technology: TW/T Temperature Probes
Invention of a temperature probe with fused-in technology within the glass temperature sensors. Compared to conventional glass-lined temperature measurements, extremely low response times of temperature change. No drifting, no aging.
Yellow pH Glass for Liquid Analysis
First (and only) glass-lined liquid analysis technology: corrosion resistant glass formulation reacting to H+ ions in liquid media. Continuous monitoring of pH and/ or ORP. Installation either in reactors on tube carriers or in pipelines on ring carriers. Absolute and differential pH measurements.
Fused-in Sensor Technology: FT/ FS Capacitive Probes
First (and only) glass-lined capacitive probe. Ring probe for the detection of full or empty reactors or pipelines, pump protections. Detection of phase separations.
Invention of a continuous surface integrity monitoring device (glass-lined or PTFE). No more influence of electrically conductive internals or attachments, false alarms drastically reduced. In place / portable version for continuous/ planned downtime controls available.
First (and only) compact glass-lined pH probe designed for food, pharma and biotech industries: high mechanical resistance, anti-adhesive, in-line cleaning and sterilization up to 134°C.
Invention of a conductive glass-on-glass connection of CryCo-Lock turbine to CryCo-Lock shaft. Extends the corrosion monitoring capability to fully glassed CryCo-Lock turbines, without losing their assembly/disassembly properties.
Miscellaneous Technical Components and Equipment
Invention of a single tube sheet heat exchanger with replaceable glass-lined tubes and shell. Serves as liquid/ liquid heat exchanger, condenser; evaporator; reboiler.
Invention of a fused-in sight-glass in glass-lined steel carrier. No more gasket or bolted assembly. Improved safety, ease of cleaning, fracture proof. Base of the Glasslook glass-lined sight-glasses and manway covers family.
Invention of a quick-opening cover, glass-lined with O-Ring sealing. Includes fused-in Glasslook sight-glass, thumb screws for opening/closing without tooling. Base technology of the Fillook handhole and manway covers family.
GlasSic® Heat Exchanger SCO
Invention of a double tube sheet heat exchanger (patented connection): glass-lined tube sheets, shell and/or bonnets, silicon carbide tubes. High heat exchange performance, very compact. Corrosive media at tube, shell or both sides. Serves as liquid/ liquid heat exchanger; condenser; evaporator; economizer.
Revised Pfaudler gasket system for glass-lined nozzles. Improved in terms of corrosion resistance, compressibility, residual elasticity and mechanical strength. Certified to German standard TA-Luft.
Pfaudler Clean Coil Technology (PCC)
First glass-lined reactor with halfpipe coils in 1973. In 2005, invention of the Pfaudler Clean Coil (PCC) manufacturing technology for scale-free inside coils, better heat transfer and extended lifetime of halfpipe coil reactors.
---
Air condensers are available in single and double versions. Air coolers can replace conventional water coolers in many chemical application processes. Such a conversion minimizes water consumption and saves money. This air cooler is a patented development by the WWU Münster, which NORMAG sells and uses exclusively. It only works with air and does not require water. This results in various advantages compared to conventional water coolers and air coolers from other manufacturers.
The triple holder pro enables an easy mounting of vessel and cover. Cover and vessel can be disassembled and assembled independently of each other. The exchange takes only seconds. The triple holder can be used to hold vessels up to a volume of 10 L and a size of DN 200.
New generation of shell and tube heat exchangers
Our new generation of shell and tube heat exchangers are equipped with an improved sealing system with special PTFE sealing rings developed exclusively for NORMAG. More common parts ensure a better spare parts storage and procurement. This standardization enables a faster delivery. Better assembly, maintenance and repair is possible due, to the new design of tube sheets and clamp rings.
New generation of lightweight agitators with mounting system "easy"
The new modular construction system for agitators and agitating elements can be delivered faster, due to the higher standardization. The new size 25 mm replaces the size 18 mm and can be used for Ex areas up to 1/1, IIC, T3/4. For the Ex version, the Pt100 is always included in the scope of delivery. The connections for nitrogen and speed measurement are always available. Thanks to the new modular system, the standardized stirring heads can be exchanged with special tools. The new design of the shaft holder improves installation, maintenance and repair. The new magnetic stirrer coupling is designed for up to 12 Nm. In addition, we offer a magnetic coupling with an integrated Panasonic motor in a compact design, especially for laboratory applications.
Laboratory Mixer Settler DN 30/50
Our Laboratory Mixer Settler has an extremely low dead volume and ensures a precise formation of the separation layer. The mixer cannot be influenced outside the resting zone. The unit is equipped with precisely adjustable drain valves. The Mixer Settler is also available in a rectangular tube version.
The Control Unit Pro2 is developed for the control and/or remote control of small or medium-sized laboratory systems. The visualization is possible on PC, laptop, tablet or smartphone. - Functions: control of aggregates, display of measured values, sequence control, recipe management, archiving, safety shutdowns
This Modular Reaction System has a compact, mobile design and is equipped with exchangeable stirrer shafts, as well as a lifting and lowering device. The construction enables a high number of connections on the cover and a quick exchange between 10, 20 and 30 L vessels. The Modular Reaction System Compact is available with distilling attachments and automation.
Modular Reaction System Lab Fast
The Modular Reaction System Lab Fast has a compact design and is equipped with our triple holder. The construction enables a high number of connections on the cover and an easy exchange of vessels and covers. The Modular Reaction System Lab Fast is available with filters, filter reactors, reactors from 0.1 up to 10 L, automation and distilling attachments.
Modular Short Path Evaporator
The Modular Short Path Evaporator it is designed to run continuously. The evaporator is available in standardized sizes from 0.01 up to 0.3 L in borosilicate glass, larger sizes are available in other materials. It has a compact and mobile design and is equipped with a Rotafilm wiper basket for best distribution. The Modular Short Path Evaporator is a completely temperature-controlled system, including pumps. The few existing sealing points guarantee high vacuum tightness.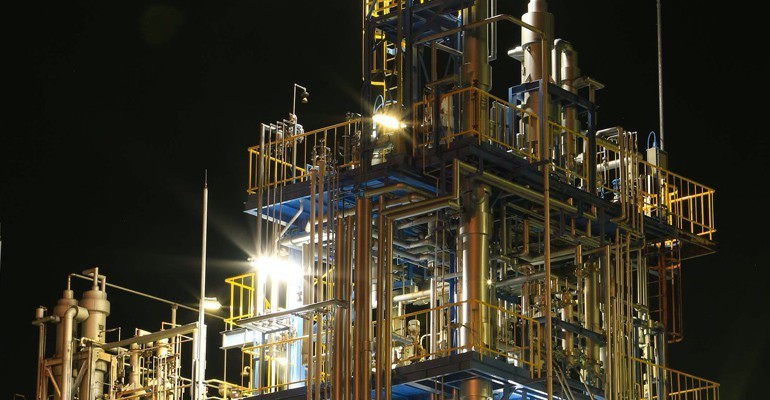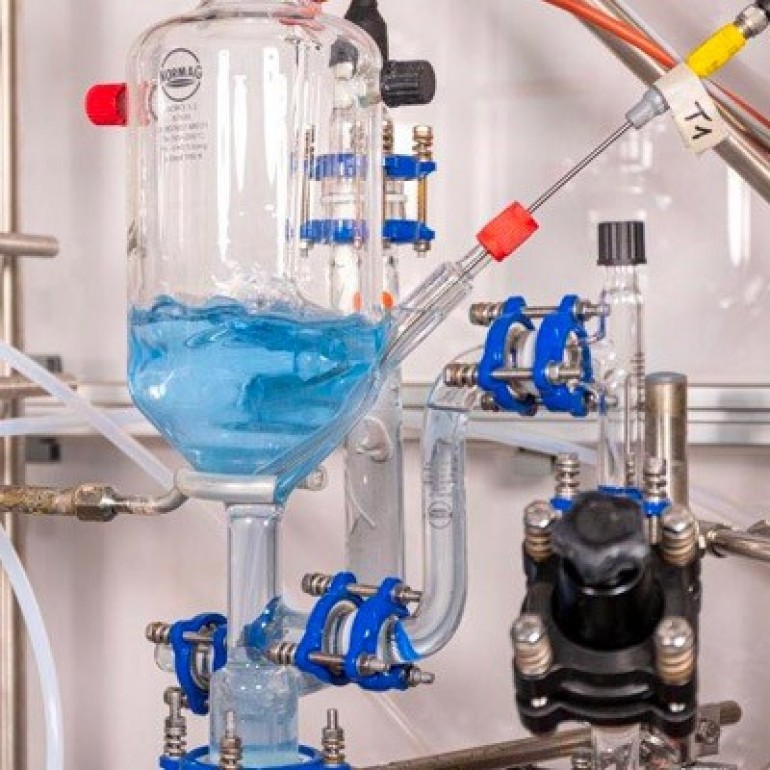 Acid Recovery & Registered processes
Through collective expertise and experience acquired over the last 100 years, Pfaudler Normag Systems developed in the beginning of 2019, various acid treatments and concentration technologies for inorganic and organic acids. The exclusive Know-How is presented by the registered brands of the most common processes. HoN-MA® High Concentration of Nitric Acid - Magnesium Nitrate route HoN-SA® High Concentration of Nitric Acid - Sulfuric Acid route HoSA ® High Concentration of Sulfuric Acid, up to 98 wt% H2SO4 MoNA ® Medium Concentration of Nitric Acid, up to the azeotropic point
By way of its innovative laboratory, Pfaudler Normag Systems has the capability to develop and optimize various test-process technologies from rectification to distillation and extraction using different modules.
By way of its innovative laboratory, Pfaudler Normag Systems has the capability to develop and optimize various test-process technologies from rectification to distillation and extraction using different modules.
---
MAVAZWAG®
Agitated Nutsche filters & filters dryers
Versatile units for deep bed and solid-liquid separation. Performs many tasks where filtration and cake washing is required.
FUNDA®
Centrifugal disc filter
A totally-enclosed, horizontal pressure filter. The self-supporting filter screens for pre-coat or residue filtration for large quantities of diluted suspension.
MAVAPAD®
Vacuum paddle dryer
Versatile energy-efficient system for drying a wide range of products under vacuum. The special Agitator ensures homogenous product mixing, improves heat exchange and reduces drying time.
MAVADRY®
Universal vacuum paddle dryers
A high-performance paddle dryer with a special heated airfoil blade and chopper.
MAVASPHERE®
Spherical dryer
A multi-purpose dryer used in the desiccating of Active Pharmaceutical Ingredients (APIs) and fine chemicals, in compliance with CGMP and FDA guidelines.
MAVAG holds a number of international patents on this design including:
European EP 1 991 346
US 8,272,775
China ZL 200780007452 & other countries
MAVADRIVE®
Magnetic and sterile agitators
Designed for use in the pharmaceutical, biotechnology, food & beverage industries.
---
Interseal dry9000® seal
The innovative and patented dry9000® is a high-level solution for: Agitators, Mixers, Thin-film Evaporators, Screw Conveyors, Nutsche Filters and Filter Dryers, for specific applications in the Pharmaceutical, Chemical and Food Industries.
---
Innovation in Fluoropolymer Welding
Mastering Fluoropolymer fusion welding enables the fabrication of complex components made from PTFE and PFA regardless of their size.
Secure & PureTM Ultra-high purity products for the Semiconductor Industry
Fabricating lined equipment for handling UHP chemicals requires innovative welding lining to produce smooth and flat indiscernible seams that eradicate cracks and eliminate entrapments.