Board Of Directors
Mr. Prakash Apte
Mr. Prakash Apte is the Chairman of Kotak Mahindra Bank Limited and serves on the Boards of Kotak Mahindra Life Insurance Company Limited, Fine Organic Industries Limited and Blue Dart Express Limited as an Independent Director. Prior to joining Kotak Mahindra, Mr. Apte served as a Non-Executive Chairman of Syngenta India Limited, an agricultural business company in India and a subsidiary of Syngenta Group, from May 2011 till September 2021 and as its Managing Director from November 2000 to April 2011.
Mr. Apte's professional career spans over 41 years with a wide range of experience in management and leadership as well as an in-depth knowledge of the agrochemicals and speciality chemicals industries. Mr. Apte was instrumental in setting up Syngenta Foundation India in 2005 which focuses on educating and providing resources to marginal farmers and facilitating rural entrepreneurship. In 2016, he was involved in setting up of the lndo Swiss Centre of Excellence which aims to provide world class training in advanced vocational skills. Mr. Apte has served on the Boards of both these not-for-profit entities till mid-2021.
Mr. Apte has a B.E. (Mech) degree from the University of Pune and a Diploma in Business Management from University of Mumbai. He has also attended executive and leadership development programs at Harvard Business School, INSEAD and IMD.
Mr. Nakul Toshniwal
Mr. Nakul Toshniwal is the Chairman & Managing Director of Toshvin Analytical Pvt. Ltd. which is recognized as one of the largest analytical instrumentation companies in India. He started his career as an analyst with AT Kearney Inc. in New York, USA, and has over 23 years of experience in managing, investing in and growing companies in diverse industries.
Mr. Toshniwal is a member of the Council of Directors of Kodaikanal International School.
He graduated summa cum laude from The Wharton School, University of Pennsylvania, Philadelphia, PA, and has a Master of International Public Policy degree from The School of Advanced International Studies, Johns Hopkins University, Washington DC.
Ms. Bhawana Mishra
Ms. Bhawana Mishra is the Founder Director of BasilTree Consulting Private Limited, a firm that works with the biggest names in corporate India in defining talent strategy, identifying and building leadership acumen, and supporting individuals and teams to actualise their potential in line with the business strategy.
Ms. Mishra has 23 years of experience across industries, as a talent and leadership development specialist. She started her career with hands-on work in talent management, strategic change and organizational transformation, and her clients include CXOs and business leaders of a large number of Indian and multinational companies.
Ms. Mishra is an M.A. in Applied Psychology (specialization in Organizational Behaviour) from the University of Delhi, 1997 and has a Level B Certification in Occupational Assessments from the British Psychological Society.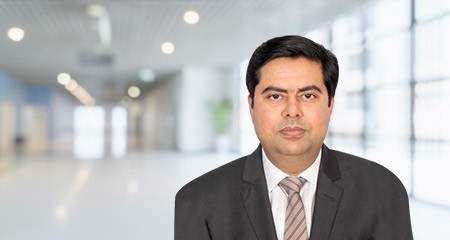 Mr. Vivek Bhatia
Mr. Vivek Bhatia is the Managing Director and Chief Executive Officer of Thyssenkrupp Industries India. Prior to joining Thyssenkrupp, Mr. Bhatia was with Boston Consulting Group, India where he worked extensively in the capital goods sector with clients in India and abroad on a wide canvas of topics.
Mr. Bhatia has worked across multiple business functions including strategy, operations and organization in the areas such as growth/diversification, joint ventures & technology transfers, business turnaround/ transformation, working capital management, operations design and re-engineering, organization design and performance management systems. In 2013, he was awarded a BCG Olympics Gold Medal for the most insightful and impactful client work in the region.
Mr. Bhatia holds an MBA (from IIM Calcutta), M. Tech. (Gold Medalist from IIT Delhi) and B.E. (with honours from University of Delhi).
Mr. Ashok Patel
Mr. Ashok Patel has over 48 years of experience in the capital goods industry.
He has been a Director of GMM Pfaudler Limited since 1972 and was the Managing Director of the Company from 1988 to 2015. He is currently the Executive Chairman of the Company's subsidiary Mavag AG.
He is on the Board of Skyline Millars Limited and Ready Mix Concrete Limited.
Mr. Patel has a B. Sc degree from the University of Manchester Institute of Science & Technology, UK, and an MBA from the Columbia University, USA.
Tarak Patel
Mr. Tarak Patel has been Managing Director of the Company since June 2015.
He has also served as Executive Director of the Company since 2007.
Mr. Patel serves on the Board of Ready Mix Concrete Ltd, ReefWatch Marine Conservation, and Charutar Arogya Mandal.
He is also a member of the Young Presidents' Organization (YPO).
Mr. Patel has a BA in Economics from the University of Rochester, USA, and an MBA jointly conferred by Columbia Business School, London Business School, and University of Hong Kong (HKU) Business School.
Composition of committees of the board

Audit Committee:
| Sr. No. | Name of director | Category of directorship | Position in committee |
| --- | --- | --- | --- |
| 1. | Mr. Vivek Bhatia | Non-Executive Independent Director | Chairperson |
| 2. | Mr. Prakash Apte | Non-Executive Independent Director | Member |
| 3. | Mr. Nakul Toshniwal | Non-Executive Independent Director | Member |
Stakeholders Relationship Committee:
| Sr. No. | Name of director | Category of directorship | Position in committee |
| --- | --- | --- | --- |
| 1. | Mr. Prakash Apte | Non-Executive Independent Director | Chairperson |
| 2. | Mr. Tarak Patel | Managing Director | Member |
| 3. | Mr. Bhawana Mishra | Non-Executive Independent Director | Member |
Risk Management Committee:
| Sr. No. | Name of director | Category of directorship | Position in committee |
| --- | --- | --- | --- |
| 1. | Mr. Vivek Bhatia | Non-Executive Independent Director | Chairperson |
| 2. | Mr. Prakash Apte | Non-Executive Independent Director | Member |
| 3. | Mr. Tarak Patel | Managing Director | Member |
| 4. | Mr. Ashok Patel | Non-Executive Director | Member |
Nomination and Remuneration Committee:
| Sr. No. | Name of director | Category of directorship | Position in committee |
| --- | --- | --- | --- |
| 1. | Mr. Nakul Toshniwal | Non-Executive Independent Director | Chairperson |
| 2. | Mr. Prakash Apte | Non-Executive Independent Director | Member |
| 3. | Ms. Bhawana Mishra | Non-Executive Independent Director | Member |
Corporate Social Responsibility Committee:
| Sr. No. | Name of director | Category of directorship | Position in committee |
| --- | --- | --- | --- |
| 1. | Ms. Bhawana Mishra | Non-Executive Independent Director | Chairperson |
| 2. | Mr. Nakul Toshniwal | Non-Executive Independent Director | Member |
| 3. | Mr. Ashok Patel | Non-Executive Director | Member |
| 4. | Mr. Tarak Patel | Managing Director | Member |
Allotment Committee:
| Sr. No. | Name of director | Category of directorship | Position in committee |
| --- | --- | --- | --- |
| 1. | Mr. Nakul Toshniwal | Non-Executive Independent Director | Member |
| 2. | Mr. Tarak Patel | Managing Director | Member |