pH measurement & analysis
Pfaudler - Glass-Lined & Alloy Systems
Technologies
On-line pH measurement in glass-lined equipment
pH is traditionally measured through glass electrodes. Due to the mechanical weakness of the glass probes, there are many protective measures that must be taken. Further, drifting of glass probes make on-line measurements difficult.
Pfaudler has developed an enamelled steel with pH sensible glass. Fitted on an enamelled probe carrier, this pH sensible glass is positioned inside the reactors or in the main flow lines, where the process occurs. At the edge of the pH probe carrier, the pH signal is available online, and it is faultless and precise, whatever the conditions may be.
Properties of Pfaudler pH measuring systems
Due to its unique design, the Pfaudler pH measurement system continues to be operational when traditional pH glass probes "give up":
High mechanical stability: probe can be installed in the centre of the liquid flow or close to the agitator
Self-cleaning, by flow velocities when installed in turbulent flows
Can work at pressures of 10 bar, respectively up to 100 bar for differential pH probes
Can be sterilized at 134°C
No risk of pollution of reference electrode – almost no drifting
One-point calibration – no dismantling required
Low maintenance – service intervals of 360 days are possible
Almost no consumables: low life-cycle cost
On-line acquisition of process data as an indicator of the process progress, improvement of product quality and productivity, contribution to safe operating procedures, low maintenance and low life cycle costs are the benefits of glass-lined pH probes.
Pfaudler pH probes: two measuring concepts
External reference, called an absolute pH probe: the pH sensitive glass-lined electrode is immersed in the liquid to be analysed. A reference electrode is located outside the media in an electrolyte pot. Both electrodes are linked by an electrolyte.
An electrical potential is established on both electrodes. The difference of the two potentials is correlated to the ph. The pH meter converts the millivolt signal into a pH signal. A 4-20 mA signal is returned to the supervision system – the pH measurement is available continuously on-line as the process progresses. The absolute pH probe allows to measure the pH along the whole process operation range.
Differential pH probe: a pH sensitive glass-lined electrode, as well as a salt-concentration sensitive glass-lined electrode, are immerged in a liquid. The potential difference between the two electrodes is measured and converted into pH.
Provided that the salt concentration is constant, the differential pH probe allows detecting a specific pH – at which the probe has initially been calibrated. An ideal solution for a recurring process. No external electrolyte circuit needed.
Pfaudler pH probes: two physical configurations
pH probe carrier as a glass-lined tube:

nozzle mounted, either flanged or screwed;
mounted vertically or in all other positions;
length of the probe carrier can be > 3000 mm; pH measurement in the heart of the process; close to the agitator possible.

pH probe carrier as a glass-lined ring:

mounted between flanges in a pipeline – in ascending lines;
allows pH measurement at various moments along the process, not necessarily only in a reactor.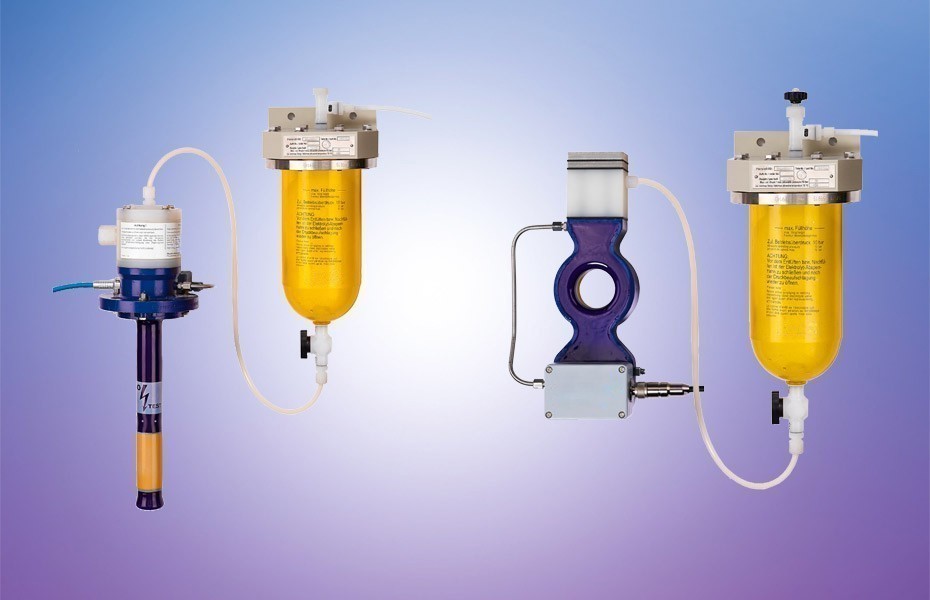 Used not only in glass-lined equipment
Due to their unique properties of mechanical strength and low- maintenance requirements, Pfaudler glass-lined pH probes are installed in processes other than in glass-lined equipment:
Flue gas desulphurization
Food industry: jam, fruit juices, sparkling waters, milk products
Fermentation processes
Fertilizer industries
Industrial laundries, industrial wastewater treatment
Sugar industry
Nuclear industry
Other application for Pfaudler pH enamel
Extending the technology of Pfaudler's pH enamel, several variants are designed for:
measuring Redox potential (ORP probes);
combined measurement of pH and Redox potential (pH/ ORP probes).