GMM Pfaudler & Pfaudler Group: Now a Unified Global Entity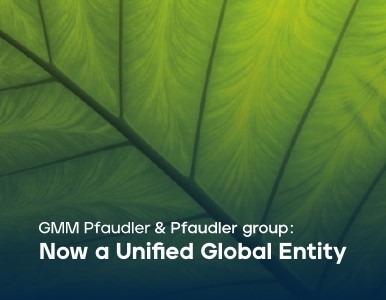 11 May 2022
GMM Pfaudler & Pfaudler Group: Now a Unified Global Entity
Building on our foundation and legacy, we move forward with purpose and a shift in the mind set.
Our vision is to become the preferred partner of critical process technologies, systems and services for the pharmaceutical and chemical industries by delivering high quality and sustainable solutions.
We achieve this by using our corrosion-resistant expertise as a cornerstone to develop a broader portfolio offering, while respecting the environment, uniting our people and creating value for all our stakeholders.
Our values are an attitude that defines our culture. It creates behaviours and mindsets that are dynamic, encourages innovation with our offerings and puts inclusivity at the heart of our people practices, that ultimately drives us to be a trusted and respected partner.
What does it mean for you?
We're the same people, same company – now with a new look. We are changing to remain agile, serve you better and be future ready. We are changing for the better.
We are your single point of contact for the supply of corrosion resistant solutions

All our existing technologies, systems, services around the globe will now come under one umbrella - GMM Pfaudler

Pfaudler will continue as global brand for the Glass-Lined Technology, Normag for Lab & Process glass, Mavag for Filtration & Drying, Mixion for Mixing Technology, Interseal for Sealing Technology, Edlon for Fluoropolymers. A newly created brand, Equilloy, has been identified for Alloy Process Equipment within the Group

Through our wholly-owned subsidiary, GMM Pfaudler Foundation, we will carry out and implement the Corporate Social Responsibility initiatives of GMM Pfaudler Limited and its group companies
For more details download the complete newsletter.