Corrosion Monitoring CryCo-Lock® Monitoring
Pfaudler - Glass-Lined & Alloy Systems
Technologies
Corrosion Monitoring
Pfaudler's corrosion monitoring technology checks glass-lined surfaces (reactors, tanks, receivers, piping, fittings, etc.), as well as other coatings, such as PTFEs, for integrity.
Systems are available for continuous corrosion monitoring, included to the equipment or as portable solutions for periodic tests.
Compared to the traditional systems of conductivity monitoring, the measuring principle of the new Pfaudler Corrosion Detector allows for false-alarm free operation.
Why corrosion monitoring and not just testing glass by conductivity
Glass integrity testing solutions available before the Pfaudler Corrosion Detector were based on checking for conductive connections between the media in a vessel and the grounding of this vessel. Since glass is non-conductive, the system would generate an alarm if there was conductive connection, under the assumption that this conduction was caused by damaged glass.
Unfortunately, there are many other possibilities for a conductive connection to the ground, such as loading a liquid by means of a conductive hose, or emptying the vessel in a conductive line, or a reflux from a reactive metal heat exchanger, and so on. The result was the generation of false alarms: operators switched the system off or ignored the signal, sometimes with severe consequences.
Based on this observation, Pfaudler developed its Corrosion Detector. The system checks not only for a conductive connection between the media in the vessel to the grounding of the vessel, but also whether the conductor contains carbon steel. This means that the corrosive media have come into contact with carbon steel. In other words, the glass is damaged. This measuring method is based on the principle of decomposition voltage analysis through the corrosion detector processor.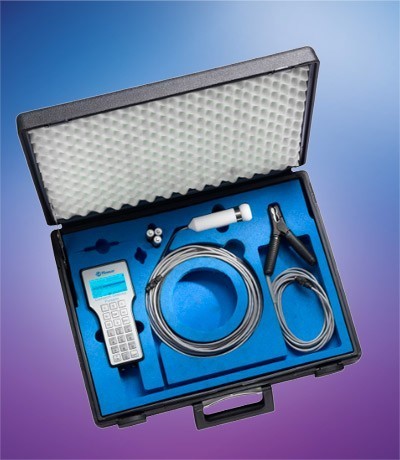 Benefits of the Pfaudler Corrosion Detector:
Monitors the integrity of all corrosion-resistant surfaces
Measurement not influenced by electrically conductive fittings, internals, repairs or attached / built-in conductive equipment
Control measurements rule out false alarms
Displays operating conditions based on defined current thresholds
Certified for explosion zone 0
The New "CryCo-Lock®" technology: continuous corrosion monitoring of fully glassed turbines
The Corrosion Detection system is primarily based on an electrical loop including all the surfaces to be inspected – a grounding connection is necessary at these surfaces, in order to close the loop.
Such ground connections do not exist for fully glassed CryCo-Lock® turbines, but they do exist on the shaft, at the shaft end. Therefore, traditional Cryo-Lock turbines cannot be monitored by the Corrosion Detector, while the CryCo-Lock® shafts can. Unfortunately, rotating parts, such as specifically turbines, are those most subjected to damages.
With the Pfaudler CryCo-Lock® technology connecting the turbine to the shaft, it is now also possible to monitor any damage of the turbines. A conductive glass spot on the shaft and the turbine includes the turbine in the electrical control loop of the shaft.
CryCo-Lock® connection means:
Corrosion monitoring of all wetted parts, including fully glassed CryCo-Lock® turbines
Homogeneous glass-lined surface at the glassed CryCo-Lock® spot; no stress caused by different thermal expansion coefficients. The CryCo-Lock® properties in terms of assembly/ disassembly are maintained
It is no longer necessary for personnel to enter into the reactor to check the surface integrity of the CryCo-Lock® turbines